Poolajada For Little Princess
Every family with a little girl is blessed by God. These angels enter your life with the sole purpose of turning your world on its head in a magnificent way. They are deserving of every princess-worthy celebration, as well as one that you, as parents, will remember for years to come. One such event is the half-saree ceremony, which is held for young girls, usually between the ages of 11 and 12. Half-saree ceremonies have grown into 5-day festivities replete with fun, pomp, poolajada and grandeur during the last decade, while this traditional festival has always been celebrated with joy.
,
While there are numerous factors that go into a half-saree ceremony, Poola Jada has long been an important aspect of a young girl's traditional appearance. So, today, we've compiled a list of some of our most popular Jadas that have been seen at half-saree ceremonies.
As much as we adore an exquisite Poola jada, it's crucial to remember the little girl. Traditional Poola jadas may be too hefty for your little girl on her special day, limiting her mobility. As a result, it's critical to hunt for lightweight jadas.
A poola Jada constructed of jada billa and rose petals is seen below, which has a fuller look and is half the weight of a standard jada while remaining flexible and allowing full range of motion.
Gold Jada's have a certain quality about them. The patterns are hypnotic, divine, and creative. If your young one is wearing a Gold Jada on her special day, here's a style idea to dress it up with matching accessories from Pelli Poola Jada. The veni would blend in with the Jada to give the ensemble a finished touch.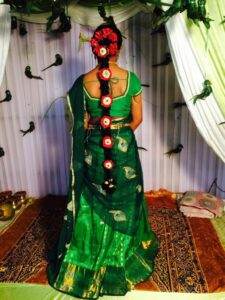 The jada billa design featured here is another of our favourites. There will always be times when less is more. The jada set depicted above is a good example of what I'm talking about. This outfit, which was customized to the client's specifications, is ideal for girls who enjoy moving around freely.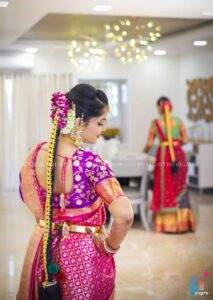 Pink and purple will always have a special place in the hearts of young girls. Isn't that so? It's the most favorite hue among our small customers, and here's one for a particular customer.
The all-exclusive diamond appearance has recently attracted a great attention at weddings and half-saree ceremonies. Keeping up with the times, we introduced the  jada billa style Poola jada to flawlessly match your diamond design. Here's one of our Rockstar's effortlessly sporting our creation.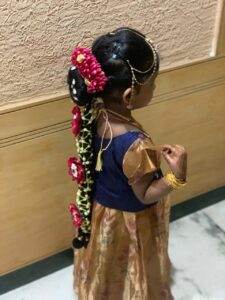 Which design do you prefer? Please let us know in the comments, and if you are interested in ordering any of our designs, please contact your local pelli poola jada branch or DM us and we will respond as soon as possible.