Beautiful Pelli Butta
South Indian weddings offer the most exquisite customs and wedding props. Let's discuss the gorgeous pelli Butta used in South Indian weddings.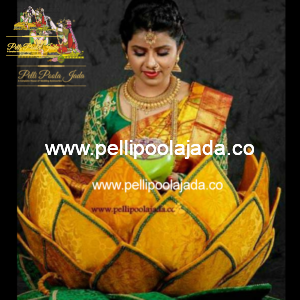 South Indian brides are typically purchased in a handwoven cane basket carried by their maternal uncles, it may sound quite exciting.
As unusual as it may sound, you must experience the entire process at least once in your life to see the emotions play out in such a heartfelt bridal entrance.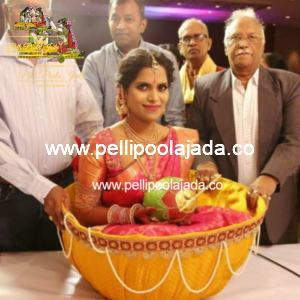 Leave the Pallaki and Addutera for another day; the wedding basket entry is the best of the lot, and did you know there's a story behind it?
The bride is made to sit in the basket while performing the Gowri Pooja, in which her gotram is changed to that of her future spouse, and the bride is then seen as a manifestation of Goddess Lakshmi herself. She is forbidden from putting her feet on the ground on her walk to the mandap to meet her other half. As a result, Maternal uncles normally carry her in a basket on the way to marry Lord Srimanrayana personally.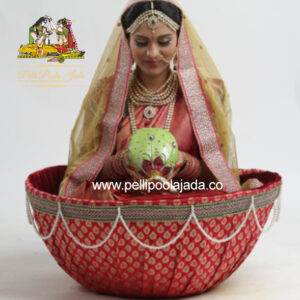 Starting a new life with that heavenly spark exemplifies the grandeur of Indian traditions, and such wonderful moments, of course, deserve a memory snapshot that is worth a million dollars. Eventually, your children will be as enthralled by your wedding photos as you are by your parents' wedding album. So it's well worth the effort to preserve those memories to reminisce over later.
Having said that, we've compiled a list of some of our favorite Pelli Buttalu from Pelli poola jada throughout the years. Our iconic lotus pelli butta comes in a variety of colors, including red, pink, and golden yellow, as well as a floral jaal pelli butta that is tastefully adorned. Which of them do you prefer?
Please share your thoughts in the comments section below. Do you want a butta like this for your wedding? Just send me a DM!! Send us an email, and we'll get back to you as soon as possible. For more information and inquiries, you can also contact your local pelli poola jada branch.