Hairstyles for the bride's Squad
A dress paired with a different hairstyle can completely transform one's appearance, thus choosing hairstyles for the wedding should be considered carefully. So, to guarantee that the bride's squad hairstyles are in perfect sync with their wedding outfits, we've compiled a list of the most recent hairstyles that will get you many praises. This blog includes all kinds of hair concepts for the bride's group to leave everyone startled, whether you have long or short hair.                                       
 A creatively adorned hairdo is a must-have for a South Indian wedding look. South Indian hairstyles are a visual delight for the eyes, whether they're Jada-covered long braids or flower arrangement buns.
We've enlisted 5 of the most recent hairstyles for the South Indian brides' squad, swooned by their utter beauty.
You only need to look at these stunning South Indian Bridal Hairstyles for ideas.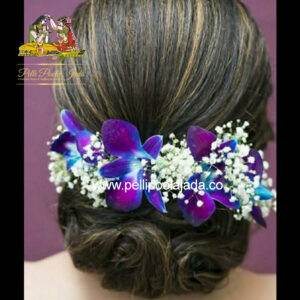 Braided low bun with with white and purple veni gives that minimalistic look without compromising the look of the hair.
Check this hairstyle  which features side-parted veni neatly set with minimal beautiful golden strings at the side.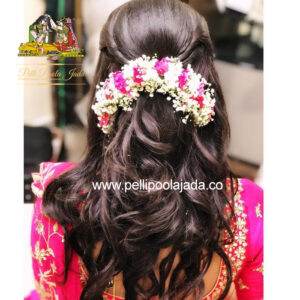 What better is way to show off your long hair than to leave them open? Choose this magnificent half-up and half-down hairstyle twisted  braid in the crown section of your hair to make your open hair look more glamorous than ever before.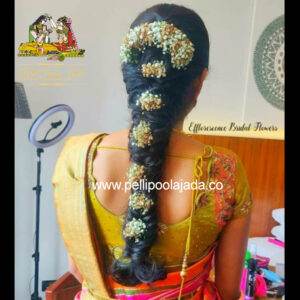 Another stunningly lovely and unique braided hairdo adorned beautifully with fresh white and golden flowers. You can go for this look if you have long hair and want to try that no open hair looks for the wedding.
This is yet another amazing hairstyle that you can try if you want to rock as the bride's squad. What this hairstyle need is just simple loose curls along with a twisted braid that goes from ear to ear . You can add beautiful venis in the braid to give this hairstyle a different look.