Floral Jeweler for Teens
Every family with a girl kid understands how important it is to acknowledge each of their child's achievements. A half-saree ceremony is a huge event that the family has been anticipating for years. It is reasonable to assume that we have long since moved on from three-hour celebrations to week-long celebrations. What more can you ask for if it brings families closer together and generates lasting memories?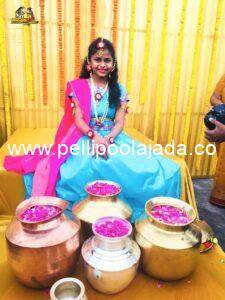 Mehndi and Sangeet ceremonies have become a staple of many south Indian half saree celebrations, much as they have for modern marriages. Floral jeweler is the most popular product from pelli poola jada when it comes to mehendi or mangalasnanam. Many customers are shocked to hear that we also have a half-saree assortment of floral jeweler.
Are you as enthusiastic as we are about seeing this new flower jewelry collection? Let's take a look at what they are right now.
Color is something that children fantasies about. If you ask any child about their dreams, you'll be shocked at how vivid their imagination and view of the world is. Furthermore, today's children have strong opinions on how they want their costumes and accessories to be fashioned. This set was created specifically for our young client's mehendi in frozen blue and pink. Stunning and one of a kind. Isn't that so?
The jasmine and rose combination is always a favorite, regardless of age. For the bulk of mangalasnanam events, it is an unspoken standard. While the combination is timeless, there are a variety of patterns that can be created with the same foundation, as seen here on one of our young clients wearing flowery jewelry.
Young girls adore multi-colored flowers. This colorful garland was crafted just for this little princess. It's a one-of-a-kind garland with orchids, fabric flowers, and baby breath.
Yellow and white is such a fashionable and trendy combo, and the way this young lady styled it with our flower accessories is really gorgeous. Her style is flawless, and her million-dollar smile completes the picture.
Which of these looks is your favorite? Please let us know in the comments section. If you have any questions about any of the products listed on the blog, please contact your nearest pelli poola jada branch, and our branch managers would be pleased to assist you.
You can also send us a direct message on one of our social media accounts and we will respond as soon as possible. Until then, keep an eye on this space for additional wedding ideas.