Summer Buns for Summer Weddings
Wedding season is approaching, and those of you who are preparing various aspects of the wedding and parties, have you explored hairstyles?
We've noticed you since you're looking for hair goals and ideas and want to show off your looks. Today, we'll show you how to make a hair bun that's less fussy and more elegant. Buns can be styled in a variety of ways, with little changes to the bangs or location. By embellishing the buns with blossoms and embellishments, it may be worn with a variety of sarees. Let's take a look at some of the most popular buns in recent years.
This is a flower-like braided bun that has been fashioned in a circular pattern and covers the whole bun.The bun is adorned with veni in yellow, white, and gold. It gives the look of a mesh in a bun form and covers the whole of it adorning it in a beautiful manner.
This is a typical bun with vibrant purple flowers added to make it seem stunning. On the upper side, a wreath of purple-colored flowers is arranged.
This is a good option for folks who don't want a high bun and prefer something closer to the neck. The hair is braided and positioned at the neck level to give the appearance of a bun. Red flowers have a brilliant beauty that makes them stand out. For some shine, golden pins can be trewn across the length of the Veni.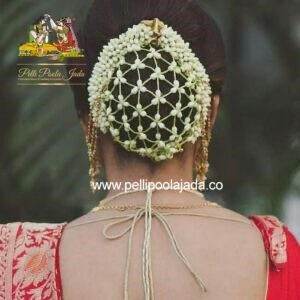 venis with the whole mesh cover adds a splash of colour and allows you to add more beauty to your bun.
Against black, white is always appealing. In the dark sky, it appears to be a lovely half moon. Veni, an antique finish artificial flower, is also added to match the saree glitter.
Veni in multicolor creates a feeling of freshness and may be worn with any colour outfit. This is a standout feature in and of itself, and you wouldn't need anything else.
We hope you enjoy our bun designs as much as we did. Stay at home and keep yourself secure.