Key To Your Benediction from God
Coconuts are an important part of Indian rituals. Be it a housewarming ritual or a wedding, the invocation to God is incomplete without this fruit. Also known as Sriphala, a coconut in South Indian Weddings signifies the blessings of the Lord the bride brings with her, as she walks down the aisle, ready to enter her grihastha phase. How can we let such an important part of the wedding look simple? The symbol of the blessings should be as grand in beauty as the blessings in person, and therefore, we bring to you various styles your Kobbari Bondam can be elevated.
What good way to feel the presence of God on your special day than have the name of you and your spouse? Take this style home and make your blessings personalized only for you. Claim Your Blessings now
Want to see God sitting near your mandap as you say your vows? Style your Kobbari Bondam with pearls and have a deity of your choice embellished on the fruit of blessings.
For all those nature-loving brides, compliment your floral jewelry set with a floral Kobbari Bondam for the complete nature-fairy look. We have multiple designs for floral styles, to suit your needs.
For all those 'blingy' vibes, add a Kobbari Bondam styled with stunning stones to accentuate the glow emitting from the blessings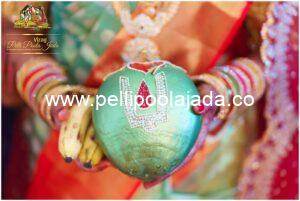 What are we waiting for? There are several options to choose from! Let's get together and make your Kobbari Bondam as beautiful as your upcoming married life.