Designer Kobbari Bondam
Whenever a person thinks of a Telugu wedding, the first thing to come in the mind is the South Indian bride with a coconut in her hand. Coconut is symbolic of a Telugu bride. It is nearly impossible to imagine a Telugu bride without coconut in her hand. Coconut is often considered as the gift of God. It is believed that the lord's blessings reside in the coconut when a bride carries it. This tradition is being followed since ancient times.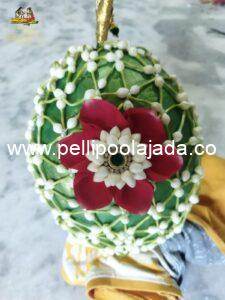 A kobbari bond is very significant in the Telugu wedding. In these modern times, where big fat weddings are the new trend, it is rarely seen that the kobbari bond is left unadorned. Its decoration is equally important as that of any apparel of the bride.
Decorators at pellipoolajada have great experience in kobbari bondman embellishment. The following are the variety of kobbaribondams that the Telugu brides can choose for their big day.
Engraved kobbari bondam
A heart-shaped kobbari bond with the names of bride and groom engraved on it with adorned muchuku is very famous among Telugu weddings. This beautifully decorated coconut adds to the bride's beauty and serves as the perfect shot for photographers.
Lotus themed kobbaribondam
Idols of Lord Ganesha or Lakshmi Devi along with white Kundan work around the lotus serve as the best choice for brides in search of fancy kobbaribondam design.
Seeta-Raamulu kobbaribondam
Rama is considered the epitome of an ideal husband. therefore, the brides can also opt for this kobbaribondam to add to their beauty on their special day.
Choose the best Kobbaribondam designs from the wide range of collection only at pellipoolajada. Shop now