Bridal Hairstyle For Different Wedding Ceremonies
Have you found your ideal wedding attire? Your wedding jewelry, too? But having trouble finding the ideal hairstyle? Fortunately, there's no need to fear since we've just discovered some incredible new bridal hairstyles that are not only sweeping the internet like wildfire but also winning over brides everywhere. Introducing some amazing and exciting hairstyles, which are fashionable, entertaining, and easy to do.
Indian weddings are not one-and-done ceremonies, in contrast to those of many other cultures. To fully appreciate the sacred union, we enjoy spreading out our festivities across several days. Having stated that, do you know what comes along with these several ceremonies? Of course, several bridal looks for all these functions.
Making decisions on clothing and jewelry is one thing, but choosing bridal hairstyles is a completely different story. While lengthy braids with poola jada are universally preferred for the wedding ceremony itself, we discovered that these unkempt strands are currently popular for events like engagements, mehndi's, and sangeet.
Have a look at these beautiful hairstyles that you can try for your wedding ceremonies.
The first hairstyle looks super easy to do and carry. It is a bubble braid with white gipsies and purple lilies adorning the braid. It can be your go-to hairstyle if you believe in keeping it simple yet attractive!
This hairstyle is perfect for you if you want to carry the look of the typical south Indian wedding with traditional hair accessories. The combination of white and golden gives it the authentic bride feel.
Yet another minimalistic but beautiful hairstyle. It is a fishtail braid with a slight puff at the crown area. You can go for this hairstyle if you don't want to have a heavy head with all the hair accessories piled up on your hair.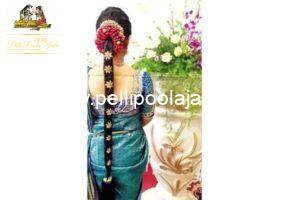 This leek braid with slight twisted braids and puff at the crown section is another hairstyle which you can try your hands on for your wedding functions. It has star-studded artificial flowers embedded in the braid with a beautiful circular gajra in the middle.
Do go through these hairstyles before deciding on any hairstyle for your ceremonies. We are sure you are going to love these hairstyles!